Vacation Bible School Dates
1st Alexandria             June 11-12     2-5
Barton's Creek           June 20-24     6-8:30
Calvary                        July 7-8          6:30-8:30 and
                                     July 9             9-12
Cedar Creek                July 11-15
 Cedar Grove               June 13-17
 Community                 June 6-10      6-8:30
 Fall Creek                   July 11-15      (Tentative)
 Fellowship                 June 6-10       6-8:30
 Grace                          June 20-23    5:45-8:30
 Hillcrest                      June 6-10      9-12:30
 Immanuel                    June 6-10     9-12
 1st Mt. Juliet               June 20-22    Backyard Kids Club (4 locations)
 Mt. Olivet                    June 15-18
 Ramah                        June 12-15    5:30-8:00
 Round Lick                June 12-17    5:30-8:30
 Shiloh                         July 18-20     6-9
 Shop Springs             July 11-15     9-12
 Silver Springs            June 6-10
 Victory                        June 20-24
 1st Watertown            July 18-22
---
---
——————————————
---
Youth Rally
Saturday, May 21
6:30 – 8:30
Round Lick Baptist Church
"OWNERSHIP"
We have two great speakers who came out of our churches and greatly impacted by youth ministry.
This will be a GREAT night or churches and youth gathering together!
———————————————-
One Day Tent Revival at Smith Fork
Sunday, May 29
Morning service starts at 10:30
---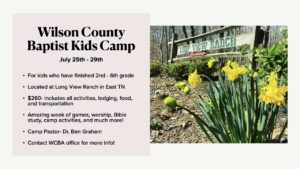 State Sunday School Training for Leaders
August 15 at Victory
6:30 – 8:30 p.m.
This will be led by a team from the TBMB.
—————————————
Special Needs Ball and Picnic
Saturday, August 27
1:00 – 4:00 p.m. at Don Fox Park